Custom Engineered Packages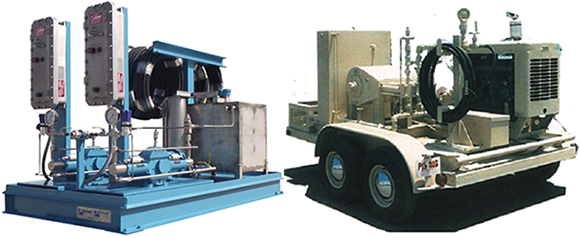 Custom pump packages can be engineered to adapt any of the McFarland-Tritan, LLC family of pumps from McFarland-Tritan, LLC to Stonebor, & Tritan and we will strive to meet your custom requirements. McFarland-Tritan, LLC custom engineered techniques mean producing the best product for the application. We will handle your requests, and respond with specific questions to determine the most vital criteria to engineer the right solution for you. McFarland-Tritan, LLC recognizes that every pumping application has its own unique operating characteristics and utilization requirements. Over the years we've designed pumps for a wide array of applications.

Some of the industries McFarland-Tritan, LLC serves include: Reciprocating pumps: controlled volume metering, conditioning monitoring equipment, lubricating systems, horizontal power, alarms, pressure reservoirs, pump repairs/retrofits, field service/installation, control centers. Products include water blasting, water jetting, chemical metering, recirculation, and hydrostatic testing.

Custom built - we specialize in custom pump packages. Do you have questions determining what you need in terms more specific than psi or how you want to drive it? Custom driving is our forte. Products include chemical injection pumps and systems, high pressure water jetting pumps, and hydrostatic testing pumps and systems. Our major markets are Agriculture, Marine Industry, electric power, miscellaneous markets, resale sales where end-user is known, export, mining, defense, petroleum - distribution, petroleum- transportation, food industry, chemical industry, petroleum refining. An ISO 901: 2000 Certified Company of 6 years offering technical abilities around the world via distributors and agents, we take extra time to understand and satisfy your custom requirements.

McFarland-Tritan, LLC was founded in the early 1950s as an original equipment manufacturer of positive displacement reciprocating pumps and systems and has had Agents/Distributors around the world since the 1940s. At McFarland-Tritan, LLC, our Quality Assurance Program is what sets us apart from our competitors. With a McFarland-Tritan, LLC you will be assured of a superior, reliable pump that has been produced by skilled craftsmen who understand the importance of precision work. Every McFarland-Tritan, LLC is manufactured utilizing only the highest quality materials and to insure the excellence of every pump we build, each pump is tested in our modern pump facility prior to its shipment.